Retired Harley Dyna Wide Glide is a Hall of Famer
When it comes to retired hard hitters in the industry, the Harley-Davidson Dyna Wide Glide is one of the most deserving of the Hall of Fame. The brawny and bold ride is designed to pay homage to its predecessors and emulates the classic chopper look with a large front tire, low-slung profile, and raised handlebar.
---
Trade in for a Harley online and enjoy door-to-door motorcycle shipping!
Want to trade for a Dyna Wide Glide? Use your cash offer as a motorcycle trade-in value!
---
The power of the 2013 Harley-Davidson Dyna Wide Glide came from the air-cooled Twin Cam 103 iconic engine paired with a six-speed cruise drive transmission. There's no mistaking the lineage of the Dyna Wide Glide; the Tommy Gun 2-1-2 exhaust increases flow and gives that iconic Harley rumble that can be heard and recognized sight-unseen.
While the death of the Dyna was announced in 2017, the lack of production doesn't take away from the popularity of the model. The new Harley-Davidsons released as part of the 2018 Softail lineup did absorb aspects of the Dyna, and the company promised to continue some of the fan-favorite details, but there is just no replacing the icon.
It's retirement is bittersweet, but that doesn't stop us from looking back at some of its career highlights. Check out the highlights and specs of the 2013 Harley-Davidson Dyna Wide Glide, and let's think back on one of the most missed models of the Harley-Davidson family.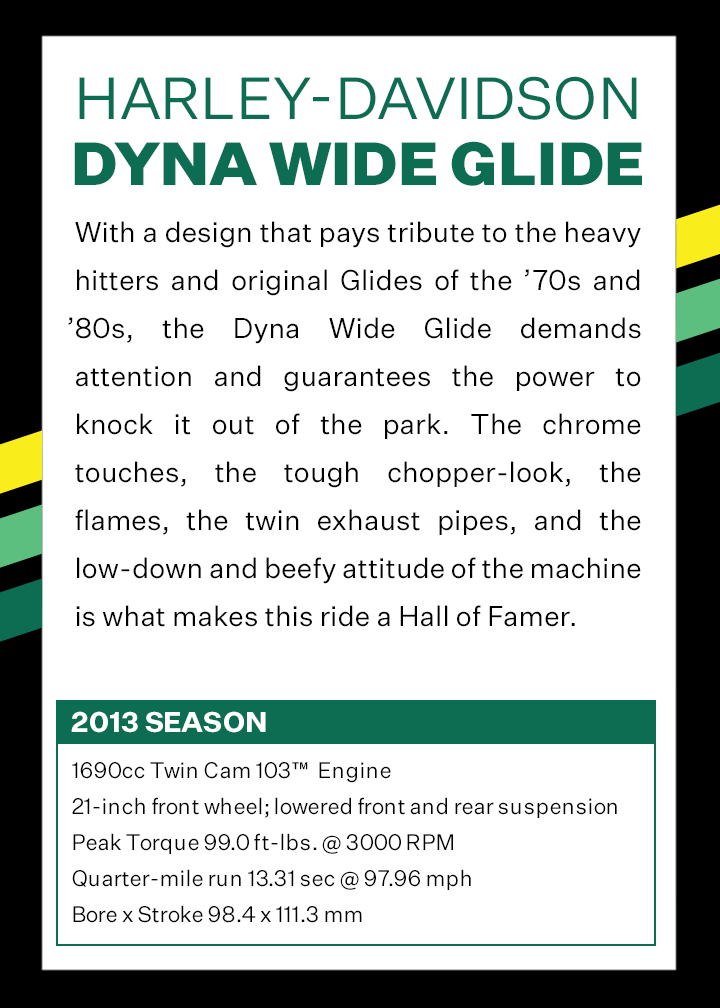 What do you think of the Dyna Wide Glide? Leave a comment and weigh in with your thoughts on this retired hall of famer!