Motorcycle Cannonball: Where vintage and antique motorcycles have their fun
You know what I love? Motorcycles and competition. They just seem to go perfectly hand-in-hand with one another, and who isn't interested in seeing what motorcycles reign supreme in the world?
Sure, you can have your favorite brands and models that you have a sweet spot for, but cheering on motorcycles in races is like horse racing, except better. Instead of watching horses with ridiculous names race towards the finish line for a questionably ugly trophy, we get to watch iron horses race towards a win. And, let's be honest, iron horses are the best kind of horses.
A race that always puts a smile on the face of motorcycle lovers everywhere? The Motorcycle Cannonball. It's a race that takes the best-of-the-best vintage motorcycles, including some American classic motorcycles, and sees which one has the best endurance. You're probably thinking, "eh, vintage motorcycles can't really go all that fast. This is probably a turtle race." Well, you're wrong, my friend, because this is a race worth watching. This year marked the fifth year of the Motorcycle Cannonball race, and this tour across America rang loud and proud with the engines of some of the best pre-1929 bikes and rare motorcycles out there!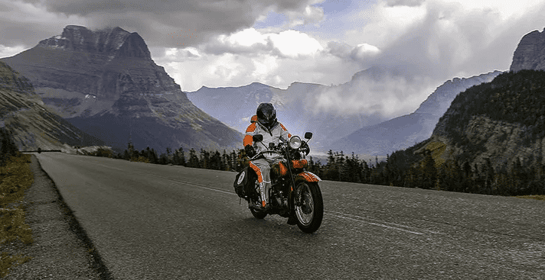 Source: RevZilla Cannonball article
The inspiration for this race? Erwin "Cannonball" baker himself, a motorcycle lover and enthusiast who took his 1912 Indian on rides across the continents. While each biannual race takes place in different parts of the nation every year, this year's race took place from Portland, Oregon, to Portland, Maine. So, yes, you can bet the views were beautiful. Since the riders in this competition are riding bikes that are older than they are, safety for the riders and the bike itself is a huge priority.
This competition is all about conducting a flawless race, so if a competitor attempts to tweak their bike with an engine that's not time appropriate to the rest of the ride, they can consider it a lost cause. Cheating isn't tolerated. And while some might anticipate that this contest is a walk through the park, when you consider weather changes, it isn't. It just so happens that Hurricane Gordon touched down during the competition, and when you add wildfires to some of the national parks the competitors went riding through, it makes for a dangerous situation. But when you love the ride and you love your bike, they'll risk it.
Source: RevZilla Cannonball article
This contest demands that riders get innovative, sometimes to the extent of holding their bike together with zip ties, or pushing it around the Mount Rushmore area because the bikes just can't take it anymore. Because of the difficulty of the rides and the bikes at which they're riding, not every racer is going to make it to the finish line. At the end of the race, 45 riders ended up crossing the finish line, out of the original 107 involved.
But, let's be honest, you're here not just to learn who the winner was, but what the winner was riding. The winner of the 2018 Motorcycle Cannonball Race was a veteran rider named Dean Bordigioni. What was he riding? One of the most beautiful, classic Harley-Davidson models, a 1914 Harley. While he technically earned the same amount of points as 44 other riders, since his motorcycle was just one cylinder, he was proclaimed as the winner. The is the first year that a single has won (one speed and one cylinder) and Bordigioni claims it was because he was the only person dumb enough to try it.
If we've ever heard one, but good for him for being realistic. It's great to see riders who are passionate about these motorcycles that are rich in history, because the ones that have the best stories are the ones that paved the way for the motorcycles of the future. They've got great character behind them, and while some maintenance might be required, these bikes are just as fun to ride as the newer ones that are slick with a fresh coat of paint.
They all serve a different riding purpose and regardless of what you ride, the thing that matters most is that you're out there and feeling the freedom.
---
Sell a motorcycle the easy way, get your free cash offer.
Need fast cash? Want to trade for a new ride? Trade in or sell a motorcycle for cash, RumbleOn is a ready buyer!