2019 Honda: Is it the best new dual sport of the year?
Well, it's no surprise that Honda has done it again. Now, you don't have to be a die-hard Honda enthusiast to appreciate everything this brand manages to accomplish. You don't even have to like the bikes that they create, but you can't deny that you've got to give respect where respect is due. Honda is a brand that has really stood the test of time and continues to create bikes that can really hold there own in the industry and within the competition. They're almost always cost-effective, and with how willing Honda is to splash into different areas, you'll always find a Honda that you love and appreciate.
So color us-not-surprised when it's time to take a good, hard look at the new 2019 Honda CRF450L Dual Sport motorcycles. It's one heck of a ride, and as always, Honda manages to do to an awesome job at dipping their feet into almost every riding area of the market. They're great at adapting their rides to different styles of riding, and the new CRF450L is no exception to that thought.
Source: advpulse.com
If you're a trail rider that loves to push the limits of what's possible, but you've been unable to find a ride that's really up to the task, meet the new Honda. This bike was specifically designed to handle virtually anything the trails can throw your way, and you'll be shocked and surprised by the experience. The beauty of this Dual Sport bike? It's street legal and easy to ride on that terrain, as well. Gone are the days where you want to ride the trail, but have to haul your bike into the truck instead of riding it home. Since this is street legal, you'll be able to ride it anywhere and everywhere, which is only half the beauty of the ride.
This has the same 449cc four-stroke engine that you'll see on Honda's most popular motocross bikes, so you'll know that they had the highest of standards in mind when creating it. Because it has a single-muffler system that most trail riding bikes might not sport, that's one of the added qualities to make sure you can get this thing onto the road. It has six-speed transmission, so you can expect a good time when you ride this.
A huge turn-off on trail bikes is their comfort scale. Most trail riding isn't comfortable, just given the setting, so comfort is never really seen as a priority. However, when Honda knew they wanted to make this street legal, they knew they had higher expectations in the areas of comfort. How can you expect people to enjoy their trail rides or ride home if you feel the rattle in your legs for hours and even days after? There's a plastic engine cover to help with the issue of heating, and rubber-cushioned sprockets that will ensure that riding this isn't an experience that will hurt.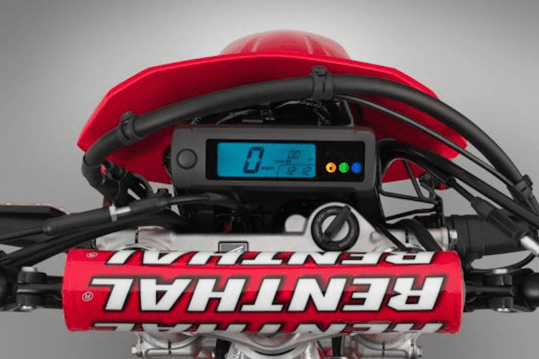 Source: advpulse.com
While it packs a serious punch, it doesn't have a throttle response that's too aggressive. It's comfortable. It helps to ensure that this is an easier ride that some of its competitors, as it's aware that there will be plenty of beginner riders ready to swing a leg over it. It's got a 2-gallon fuel tank that will help you get where you need to go, and it's a perfectly solid ride. It's price of $10,399 brand new, which means that it's cost-effective for a large variety of riders, and because it's a Honda, you know it's going to be durable.
So take it for a ride, enjoy the beauty and freedom of the trails, and know that this Honda is everything you're looking for, plus more you never even thought to ask for.
---
Trade in or sell a motorcycle the easy way, get your free cash offer.
Need fast cash? Want to trade for a new ride? Trade in or sell a motorcycle for cash, get your free cash offer!