Why I think motorcycle dogs make the best riding companions.
We love dogs, you probably love dogs, the whole world loves dogs. It's my opinion that if dogs didn't exist, the world would tilt right off its axis.They're like gravity, absolutely necessary and crucial to the survival of the human race. It doesn't take much to realize that, frankly, we don't deserve dogs. They're just too amazing. But, we'll selfishly throw out that acknowledgement so that we can keep loving dogs and they can keep loving us.
---
Sell or trade in a motorcycle the easy way, get your free cash offer.
Need fast cash? Want to trade for a new ride? Trade in or sell a motorcycle for cash to a ready buyer!
---
Know what's even better? Dogs that love hogs. It's the best of both worlds! Yeah, you heard that correctly. While some people are terrified of anything to do with motorcycles, there are dogs who love it. Don't believe me? Check out Harley Rose, your typical everyday dog, yet with a not-so-typical love for riding with her owner.
While we recognize that most dogs probably don't want to be near a motorcycle (because, you know, loud noises) we can't help but daydream about how awesome it would be to see some die-hard, funny motorcycle dogs. Sure, we image it's tricky to get your dog acclimated with the idea of riding, but if they love it, let's imagine how they'd make the best bike partner.
Here are our daydreams:
---
1) They enjoy the wind in their

hair

fur just as much as you do.
A blow dryer? Not necessary for this dog. It has a better flowing mane of hair than I do.
2) Bathroom breaks are ridiculously efficient.
When you're outdoors, it's easy! But keeping them away from the toilet paper in the house? That's a whole other story.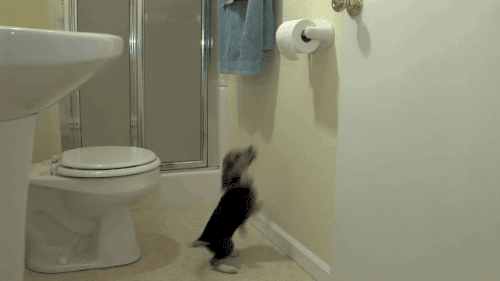 3) They won't hold on to you too tightly, because they have paws, not hands.
Human, here's my paw. Just take it, damn it!
4) They won't ever complain that you need to slow down.
Just like most motorcycles, they have a serious need for speed.
5) They won't complain about the music you choose to listen to.

Odds are, they enjoy the music just as much as you do.
6) They get some serious attention from everyone, both guys and girls.
This is especially true when they play up the 'cute' factor a little more than usual.
7) They'll pee on anyone that gets too close to your bike.

This might be the wrong kind of 'bike' we're talking about, but come on, that's a good boy!
8) They'll never ask you when they can go back home.
If anything, they'll be bugging you to get back out on the bike.
9) Their cuteness will help you get out of a ticket with an officer, even if they're the reason you got the ticket.

This wiener dog police officer can pull us over anytime, as long as he lets us give him ear scratches.
10) You're their alpha and there's absolutely no other place they'd rather be.
Your bike might be one of the things you love the most in your life, but you're their whole life.
---
Beyond the legal ramifications of driving with a dog, remember not to force your four-legged friend to do something they're not comfortable with. If they're fighting you and running away, they're not for it. And if they're one of the rare few, like Harley Rose, who love riding with their owner, always be sure that they're completely secure and have some rockin' goggles to protect their eyes.
And if you really want to get your dog out there in the safest way possible, there's always the option of a sidecar to take your partner along with you. Be safe, my friends, and WagOn and RumbleOn!
Comment down below and let us know if your fur friends like your bike, or runs away at the sound of the engine!
---
Trade or sell a motorcycle the easy way, get your free cash offer.
Want to trade for a new ride? Use your cash offer as a motorcycle trade-in value!