Hogs 4 Paws Dallas: The Story Behind the Annual Rescue Ride
It's summer 2019, and Hogs 4 Paws Dallas co-founders Chris Ruben and Ken Morgan were excited to host their annual ride for animal rescue. Dedicated to raising money for local animal shelters and rescue centers, this charitable pair hosted the fourth annual Red River Rescue Ride in June at American Eagle Harley-Davidson in Corinth, Texas.
---
Trade in a motorcycle the easy way online, get your free cash offer.
Want to trade for a new ride? Use your cash offer as an online motorcycle trade-in value!
---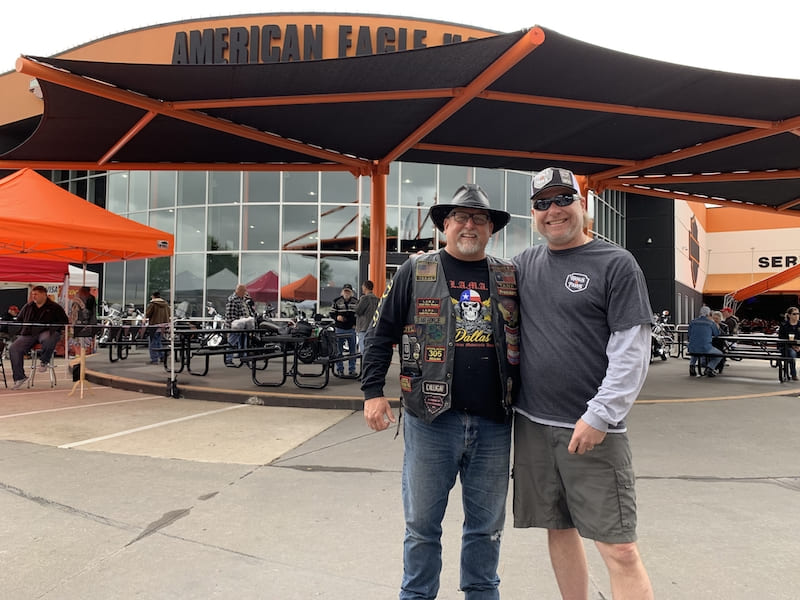 Hogs 4 Paws was co-founded by Latin American Motorcycle Association (L.A.M.A.) President Ken Morgan, and Adopt-A-Shelter founder Chris Ruben. Since 2016, Hogs 4 Paws Dallas has raised over $10,000 for Texas shelters and rescue centers.
Proceeds from June's Rescue Ride will benefit Sharkarosa Wildlife Ranch, a nonprofit, 126-acre facility in Pilot Point that offers North Texans the rare opportunity to experience exotic animals in a more personal way. The ranch is currently owned by Scott Edwards.
"What he wants to do is slowly grow into a big event out there," Morgan said of Edwards. "With Scott and Sharkarosa, there was the potential for the long-term 'big' event, and that would make a lot of money for animals."
Dubbed a "modern-day Dr. Doolittle" by some, Edwards opened Sharkarosa Wildlife Ranch in 2005. The public is free to enjoy the facility every Saturday and Sunday, weather permitting.
If you live in the North Texas area and would like to participate in future charity rides, visit their website or Facebook for more information.
---
"He's the Hogs, I'm the Paws."
Chris Ruben and Ken 'Tank' Morgan's ties extend far beyond those shared between two work colleagues. In fact, the two have been friends since before they even came up with the idea to start Hogs 4 Paws.
"We're connected at the hip," said Ruben, Founder & Chairman of AdoptAShelter.com and Founder & CEO of Creative Marketing Resources, Inc., a consultancy specializing in 'all-things-pet' since 1992. "But we're connected for much longer than it may appear and for various reasons."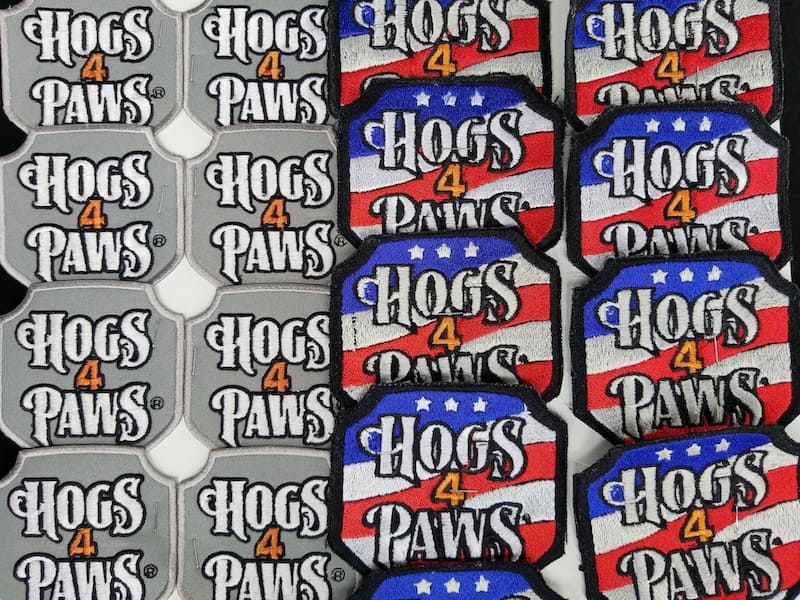 Revolutionizing the North American pet industry since 1989 with his all-natural pet treats, Ruben first met Morgan over 20 years ago when Ruben's consultancy began working with a company called Sticky Paws. From then on, their paths would continue to cross at pet events held around the country, including at the Global Pet Expo. In fact, it was at one of these expos that the idea to create a charity for disenfranchised pets first sparked.
"I feel wonderful about the fact that it means we can shovel more money to the shelters where it's needed," Ruben explained. "We want to recognize the problem, go out and have a great time, and raise some money and hand it back to those people who are going to do the right thing with it."
Currently, Ruben heads up the event marketing for Hogs 4 Paws, while Morgan, Vice President of Engineering and Logistics at Concote® Corporation, is responsible for site selection, planning the motorcycle ride routes, and anything to do with event production.
"As we like to say, he's the Hogs, I'm the Paws," Ruben laughs.
---
L.A.M.A. Supports Hogs 4 Paws Dallas
With over 20 years of riding experience under his belt, Morgan does his part for H4P by garnering support from the Dallas chapter of the Latin American Motorcycle Association (L.A.M.A.-Dallas). In addition to their many charitable efforts over the years, L.A.M.A.-Dallas fully supports H4P.
"Being the President, I really wanted to pursue my passion for pet rescue and animals," Morgan explained. "So I had a plan designed about five years ago, and it's given me the ability to really grow Hogs 4 Paws throughout L.A.M.A. My goal is to have all the L.A.M.A. chapters across the world doing this."
As the club's President, Morgan rallies behind its cause each time he visits a new chapter.
"We find a cause and we go full force with it," Morgan said. "By being the President, I'm able to reach out to other organizations to tell them what we feel passionate about [...] The goal is to have this Hogs 4 Paws ride as a staple in the Dallas area."
Currently, there are over 215 L.A.M.A. chapters in 27 different countries around the world.
With respect to Morgan's clout in the riding community, Ruben expressed nothing shy of admiration for the biker and said he considers working with L.A.M.A.-Dallas "a privilege and an honor."
"Many of the impressions people among the general public have is that these guys and gals are not necessarily nice, or not doing the right thing, or [they're] just part of those One-Percenters," Ruben said. "And, in fact, it's absolutely the opposite. These are some of the finest, most outstanding individuals out there, who will bend over backwards and spend all their time and money helping various causes."
---
As co-founders of Hogs 4 Paws Dallas, Ruben and Morgan work together to decide which shelters their charity will support. Their dedication is praiseworthy, and RumbleOn is thrilled to be able to take part in such a charitable cause.
"If you want to convey a message to him," Ruben said of Morgan, "then you tell him that he completes me, because we talk about that all the time." And if the strength of their bond isn't already evident, Ruben said his wife often partners with Morgan on motorcycle rides, calling him "her No. 2."
With plans to continue hosting H4P charity events for the foreseeable future, Ruben and Morgan are an unstoppable team.
"This is really not a business," Ruben remarked. "This is all designed to have a positive impact on whoever we choose to have a positive impact on."
Want to keep up with this dynamic duo and H4P? Visit the 'Hogs 4 Paws' Facebook page, and meet some of the pets that drive the operation behind the scenes, like Winston the Harley-Merle.
---
Sell or trade a motorcycle the easy way, get your free cash offer.
Need fast cash? Want to trade a motorcycle for a new ride? Trade a motorcycle online or sell for cash to a ready buyer!