Get Married at Sturgis Motorcycle Rally
Picture your perfect wedding. What do you imagine? Some may dream of a big ceremony held within a grand church, but for others, they just want a laid-back and intimate ceremony that matches their lifestyle.

For those who live to ride, where else would be better than at Sturgis? Yes, you can get hitched at the world's largest rally. And when it comes to making dreams like these a reality, that's exactly when Mary Maisey-Ireland steps in.
Mary Maisey-Ireland is the Sturgis Rally wedding officiant behind the site Sturgis Rally Weddings. She received her license to officiate weddings in 2001, and since then, has made it her mission to weave in each couple's story, values, and personality into their special day.
"I got married in the Catholic church a long time ago, and there wasn't much room for personalization," Mary Maisey-Ireland said. "I thought, there has got to be a way to make this personal, to weave in each couple's story, values, and still have a beautiful ritual."
"Everyone has options," she explained. "Generally speaking, my niche is people who don't have a ritual church, or who want a destination wedding but don't have a connection out here in the Black Hills. I can relate to them and weave in different cultures and rituals depending on them. I love that! It becomes so relevant, so personal and memorable. And to me, for those two people, that's what it's all about."

Maisey-Ireland does everything in her power to make those weddings at Sturgis Motorcycle Rally all about the couple, and an experience they will never forget. "Once I get a sense of the people, who they are, and what they want, I send them options," she explained.

"Rally weddings are different than traditional weddings because they usually want something short and sweet. They get the wedding they want, whether everyone is in t-shirts or chaps, or traditional wedding attire. What I do is all about honoring the vision and being respectful for what the couple wants. I weave the personalities together and that of the families so everyone involved feels included."
"It's a collaborative co-creation, they tell me what they want, or what they don't want, and we make it work! That's what I love to do," she said. "I really, truly love what I do. I can't believe I get to do this!"
Maisey-Ireland works tirelessly to ensure a memorable moment, but she admits that even she carries some wedding memories close to her own heart.
"Last year during the rally, I did a wedding for a couple. It was just the two of them, a brother, and a photographer to serve as witnesses. As we are walking out, I noticed the groom was wearing cowboy boots. He told me that he found the boots last fall and he had fallen in love with them until he saw the price tag."

"That next Christmas, he found those boots under their tree. A huge surprise from the bride."

The story doesn't stop there. It seems this couple is all about thoughtful surprises for one another. During the ceremony, the groom, clad in his gifted cowboy boots, retrieved the glittering wedding ring to slide onto his new wife's finger. After looking for a moment, the bride suddenly gasped and exclaimed, "That's not MY ring!"

It wasn't. No. Instead, the bride was having the ring of her dreams slid onto her finger; an unexpected gift that her new husband had surprised her with during the ceremony. This touching moment was recorded in this photo.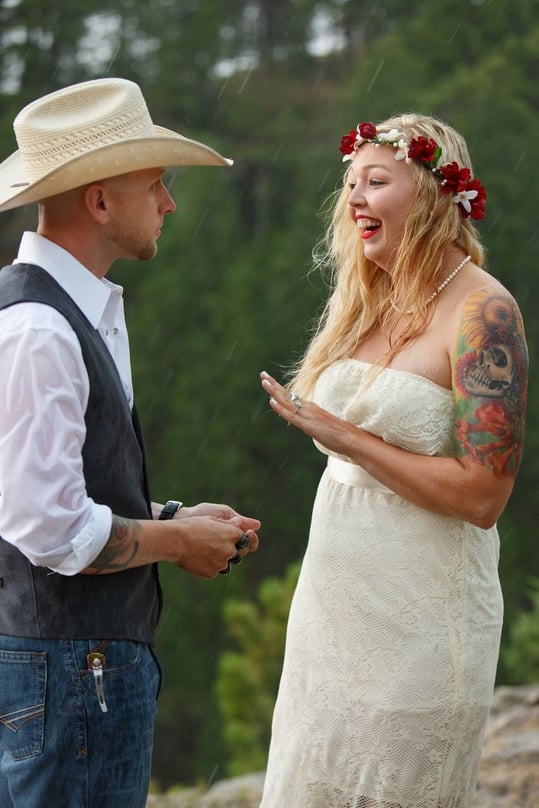 "Look at the intensity on his face," she said about this photo. "It's as though he wants to send all the love he has for her through his eyes. And yes, it was raining. We sat together in the truck afterward, wrapped in towels, and signed the license."
"An amazing setting," she said about this photo. "Note the Love Letters time capsule box in the foreground. They gathered mementos from their relationship and wrote letters to each other, which they sealed in envelopes to be opened five years in the future. Hopefully, they will make a tradition out of it, and write another set of letters then and every five years after. Wouldn't that be an amazing series to read on their 50th?"
When asked about the most important thing she takes away from officiating weddings for the biker community, she said, "I've learned that, in over 16 years working with bikers, is that it's just such a community. It's true. If there's ever a bike on the side of the road because it's in trouble, bikers will always stop to help. It truly doesn't matter where you're from. If you're a biker, you're family."
While every rally is different, Maisey-Ireland said that she could officiate anywhere between four to 12 weddings during the rally. So far, during this year's 77th Sturgis Motorcycle Rally, she has officiated seven weddings.
"This was taken by Jessica Simons Photography," she said about this photo. "The setting is Sylvan Lake, and this couple were planning to complete the Iron Butt Challenge, which was about riding their bikes 1,000 miles in a 24 hour period."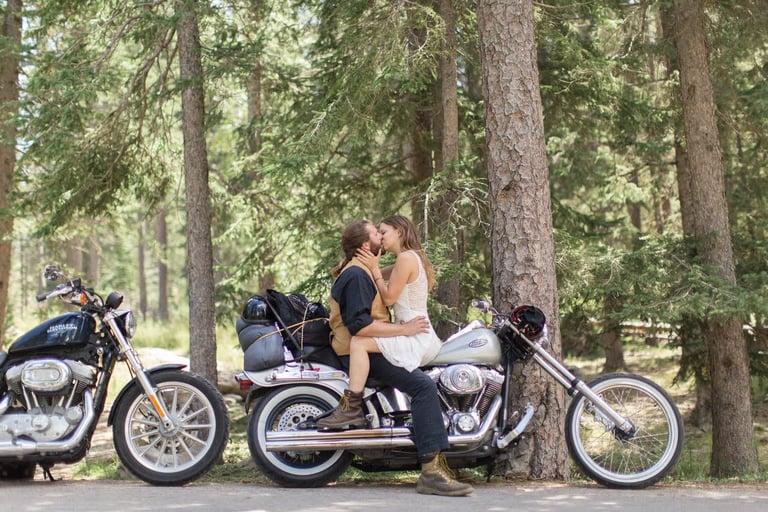 Photo by Jessica Simons Photography
"Sturgis is a very normal, small midwestern town eleven months out of the year," she said. "It's amazing how the town transforms every year for the rally."

"What I love about the area is that we have the most amazing rides. There's nothing that compares with the riding that is here," she said. "It's just so beautiful, it's technical and challenging riding, but I love where I live, and I love sharing it with those who visit. I've gotten to see some just beautiful places in the hills and learn about places that are meaningful to the couples I meet. I've been introduced to some hidden gems during my time doing this."

When it comes to mishaps, Maisey-Ireland chuckled and said that, yeah, sometimes hiccups happen. "Things get dropped; things fall over. I had a candle sconce catch fire; people sometimes pass out," she said. "I always tell my couples to roll with however it unfolds, and sometimes hiccups make the best stories."
A Unity Wine ceremony at Roughlock Falls, photo by Studio-LB
"I never get bored," she said. "Weddings aren't all cookie cutter, and they're not supposed to be. They are all just so rich experiences, and I've done over 600 weddings so far. Every wedding is different, and every one is an experience.
When asked her favorite tip to share with her newly wedded couples, Maisey-Ireland shared a quote from 20th-century essayist Anaïs Nin.
"Love never dies a natural death," she recited. "It dies because we don't know how to replenish its source. It dies of blindness and errors and betrayals. It dies of illness and wounds; it dies of weariness, of witherings, of tarnishings."

"Sometimes we tend to take the people who are most important to us for granted," she continued. "Often we don't offer our partner the same courtesy as the people who bag our groceries or do our dry cleaning. We need to pay the same respect to those we love. Respect, communication, and appreciation are the currency of great relationships."
All photo credit goes to Studio-LB, used with permission from the photographer and the couples.
---
Sell or trade in a motorcycle the easy way, get your free cash offer.
Need fast cash? Want to trade for a new ride? Trade in or sell a motorcycle for cash to a ready buyer!