Mother's Day Gift Ideas for Biker Moms
With Mother's Day approaching, it's time for everyone to put on their thinking caps and brainstorm how they want to celebrate this day. It's time to ponder over some Mother's Day gift ideas.
Let's be honest, moms don't often get enough credit. It's a pretty thankless job to have because most of the time a "thank you" isn't something that they get to hear enough. But just because we may not express it as much as we should, doesn't mean that we don't appreciate everything mom does for the family. It's a hard job to have, and when this time of the year comes, some time and effort need to be made, to make the special women in our lives feel like the Road Queens that they are.
But I get it; sometimes it's hard to come up with ideas regarding what to do for Mother's Day. You want to be creative and think outside of the box, but you also can't force creative ideas to just come at will. But I'd like to help, and I want her to have the special day she deserves, so here are some ideas that you can run with to celebrate Mother's Day.
---
Sell or trade in a motorcycle the easy way, get your free cash offer.
Need fast cash? Want to trade for a new ride? Trade in or sell a motorcycle for cash to a ready buyer!
---
Okay, obviously this was going to be mentioned, and I can't think of any better Mother's Day activity. If she's one of the women bikers who have the same burning passion for riding that you do, you really can't go wrong with taking her on a long, leisurely ride of her choice. Whether she wants to ride her bike or have you hop on the back of hers, just go with the flow and give her some time to enjoy the peace that comes with the road.
It's even better if you can find a somewhat local, picturesque area to visit near wherever you live. That way you can stop for some nice photos, or even bring a nice lunch along with you so that you can find a spot to sit and enjoy nature. A mom's life can be pretty hectic at times (okay, most of the time) so sometimes it's something as simple as giving her the chance to have some peace. It's a small and simple thing, sure, but I'm sure that she'll appreciate any effort involved.
Make her some breakfast in bed:
When it comes to thinking of what to do for Mother's Day, fill the stomach. While it may come across as a little bit of a cliche, I mean, cliches exist for a reason. Sometimes the best way to a person's heart is through their stomach (no, guys, it doesn't just apply to you). Everyone enjoys some food being made for them, especially if they don't have to clean up after the fact. That especially rings true when it comes to things like french toast smothered in maple syrup or chocolate chip pancakes.
Maybe you don't have enough faith in your cooking skills. Maybe you really don't feel like burning the house down? I get it, so if you still want to fill her stomach, you can always find a nice little bed and breakfast or local breakfast option to take her to. You really can't go wrong when it comes to food, and someone who's full of food is usually a happy camper. Essentially, the less effort she has to make, the better.
Find a local venue or concert with live music:
If you can time it perfectly as one of her favorite performers are visiting the area, that's great! But that's something that involves a lot of luck, so don't put all your eggs in one basket. You'd be surprised by the number of small concerts that happen pretty regularly in your town or maybe the next town over.
If she's a big fan of music, do some research on bands that are visiting your area that might be her taste. Music is almost as pleasing as a full stomach, so you really can't go wrong with it. Now, if she's more of a country music girl and the only show going on in your area is some heavy rap, this might not be an option for you. But if it lines up and you're able to make it work, all you need to add some nice cold ones and she'll enjoy a day or night of music.
Pamper her in all her favorite ways:
If it's within your means to splurge on some stuff, then go for it! But make sure that you buy things, packages, or experiences that you know she'll enjoy. For instance, if she's a girl that really doesn't enjoy the feeling of people messing around with her hair, it's probably not a good idea to gift her a hair care package at the local salon. Remember, you're trying to show her that she's appreciated and that you understand who she is.
If she loves all things riding, maybe you can gift her with that new motorcycle helmet she's been eyeing, that new pair of riding boots that she just can't justify buying, or maybe an experience like getting the ability to ride on her favorite motorcycle! Any of those things can be the best Mother's Day idea for a Motor Mom. Think about the things that she enjoys and the hobbies that she has, and there's sure to be a gift of experience package out there for that specific area.
Take her on an outdoors adventure or activity:

Depending on the area you're located, there are tons of different adventures for you to choose from. You can rent a pontoon, paddle boat, or kayak and take her out for a lake or water adventure. Especially if the weather is nice, it will be a fun experience that will allow her to feel removed from the everyday stress of life. There's also always some beautiful hiking trails in almost every state, and outside the cities, so you can take her on one of those and bring some food along with you.
But if for some reason weather doesn't permit you to do any adventurous activities outside, there are always activities that you can do inside. You can take her indoor rock climbing if you feel like she's up for the challenge, or to a local sports team that is playing in the area. If she has a competitive side and really just wants to win a game against you or family, you can take her to an indoor golf center or bowling.
Whatever the hell she wants:

While it's really the thought that counts, sometimes you're just not sure exactly what she wants to do. She might be feeling under the weather, or maybe you don't trust your instinct on what to plan for her. If that's the case, that's okay. As long as you show her that it's been on your mind and you're willing to do anything, that's what will really matter. So if you can't think of someone she'll enjoy, there's no harm in asking HER what she wants to do. Sometimes that's the best Mother's Day gift idea.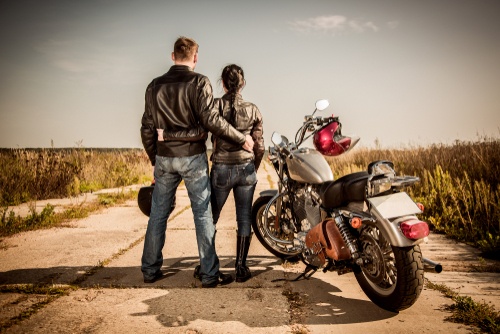 Her answer might surprise you, too. She might have an idea of her own on how she would like to celebrate Mother's Day, and it may have been something that you wouldn't have thought. You want her to have fun and enjoy a good time, so as long as you're willing to go with the flow of whatever plans she might come up with, you really can't go wrong with this option, either.
Regardless of how you choose to celebrate Mother's Day for parent bikers, as long as there are some thought and effort involved in it, it will be a successful day. Moms are very, very busy women and all enjoy a day that's just about them and what they enjoy. It's just a matter of acknowledging that hard work that goes into being a mother, and the many thanks we owe to them. As long as you're able to make them smile, that's what really matters.
---
Trade or sell a motorcycle the easy way, get your free cash offer.
Need fast cash? Want to trade for a new ride? Trade in or sell a motorcycle online for cash to a ready buyer!