Holiday Bikers: motorcycle clubs across the country help needy families this Thanksgiving
When it comes to bikers, you know we're all about camaraderie. We show the spirit of brother- and sisterhood all year long, and it's not always exclusive to fellow riders. Just as local bikers came together to help out bullied kids in Nova Scotia and Waxahachie, Texas, and rider Shadetree Surgeon aspires to build a motorcycle community center, motorcycle clubs across the country are helping out this Thanksgiving. Here are four examples of rider readiness to lend a hand to those who need a little help this holiday.
---
Sell your motorcycle for free the RumbleOn way!
Need fast cash? We can help. Submit your motorcycle to RumbleOn for a free cash offer, and we'll send it to you in 15 minutes or less! No more hassle, no more headache, it's so easy.
---
The Viper Unit Motorcycle Club Deliver Holiday Kindness
WFXL reported that the Viper Unit Motorcycle Club revved up and rode around town to give needy Albany, Georgia families the gift of a great Thanksgiving meal. The Motorcycle Club distributed a Thanksgiving box packed with food and meal supplies to families in need, and will give the same families a basket loaded with toys and donations just in time for Christmas.
---
Six Colorado Motorcycle Clubs Answer the Call
In Colorado Springs, Colorado, six motorcycle clubs-- the Mongols, Organized Generals, American Bike Tayler, Geezers, and American Legacy Firearms-- rolled up their sleeves and raised the money needed to help fourteen area families. The families from Monterey Elementary and Centennial Elementary were chosen to receive some special-made supply baskets for a great Thanksgiving meal.
---
Canned Food, Can Do
In Cordele, Georgia, three Motorcycle Clubs-- the Red Knights, The Remaining Few, and the One for All-- joined together to make sure area families were fed this holiday. The three groups collected 4,500 units of canned goods all throughout October to donate to Cordel multipurpose ministry, Hand of Hope Inc. On Sunday, they revved up and dropped off their collection, and the holiday help was then distributed by volunteers to people in need.
---
New Jersey HOG Delivers Turkeys
In Newton, New Jersey, 172 Thanksgiving turkeys were hand-delivered by members of the Northwest Jersey HOG (Harley Owners Group) Chapter 2906 motorcycle club. Since 2000, the North Jersey Turkey Drive has raised money each year to purchase as many holiday birds as possible, which are then personally delivered to needy families. This year around 120 families, some of them housebound, received delicious Thanksgiving turkeys for an amazing holiday feast.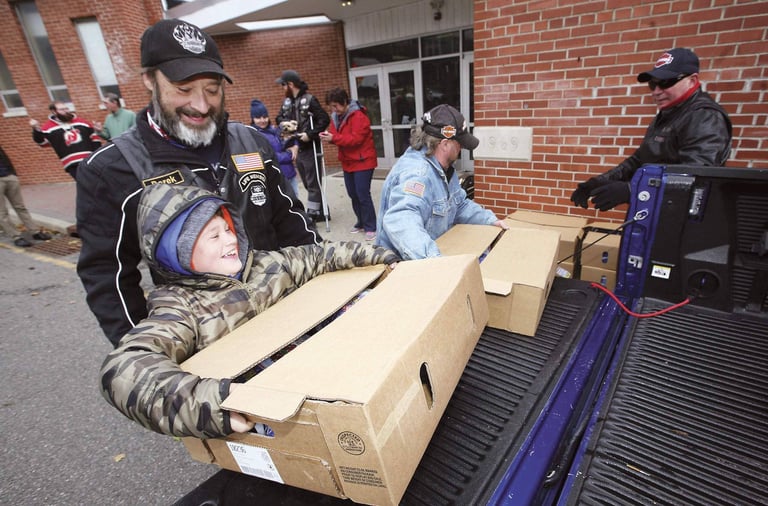 ---
"I need fast cash, but I don't know how to sell my motorcycle!"
Stressing over how to sell your motorcycle? That ends here with RumbleOn. We'll send you a free, no-obligation cash offer for your bike in just 15 minutes. After you accept, we'll send the cash to you sometimes as soon as the same day, and then one of our Certified Transporters will come pick up your motorcycle at no cost to you! Sell motorcycles the fast and easy way today.