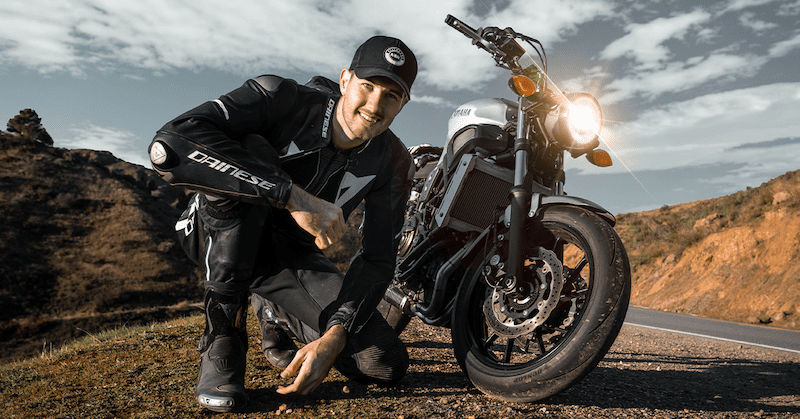 Do you currently own a motorcycle?
Believe it or not, I just purchased my first motorcycle this past Friday! I'm currently working on a reveal video which will go live later this week. Very excited to share! I purchased a 2018 Husqvarna 701 but please don't announce yet!
How did you get into riding motorcycles?
Before I got into riding motorcycles I was really big into skateboarding. I would go skateboarding with my friends but they were always a bit better than I was so I picked up a camera and started to film them instead. After years of making skateboarding videos a friend mentioned a place called the Mulholland Snake where motorcycles and cars go to ride on the weekends. I was big into cars back then so thought I'd check it out. Motorcycles were more popular up there so I started to mainly film them and decided to upload the footage I shot to my channel. Being surrounded by motorcycles all the time it was just inevitable that I would end up on one; and I've loved it ever since.

What inspires you to ride and document it?
I actually don't have the greatest of memory. Filming and editing has always helped me immerse myself more into what I'm doing. It helps me memorize the important things in my life since I'm reliving it constantly through editing. Being able to relive and share those moments with other people AND see them enjoying those moments is just so amazing to me.

How did you get into reviewing motorcycles?
I'm always in search of ways to bring new and different content to my viewers and to, overall, challenge myself. It doesn't always go according to plan, but overall I enjoy reviewing motorcycles. It's not my expertise, but I do tend to be a very analytical person so, despite my lack of seat time, I can at least bring a different perspective. Being such a tall, beginner rider (6'8"), is a point of view not many are able to provide.

What would your top tip be for someone getting into riding?
Don't be afraid to ask questions and invest in your gear, not just the bike. Too many people make emotional decisions when it comes to riding which leads to them making expensive, sometimes irreversible, mistakes. If you don't have the money for a good suit, helmet, boots and gloves, you're rushing into it. Save your money and buy the right gear when you have it. $2,000 for gear is a lot less than $60,000 in hospital bills.

Tell us about the most exciting adventure you've taken on your bike.
Most exciting adventure was going on a road trip with my dad for my 25th birthday. He rented a BMW 1200 GS for me and we rode up North to Monterey, California over a few days time. I've always wanted to ride with him and that weekend was a dream come true.

What does being a part of the motorcycle community mean to you?
That's a very good question and I tend to ask myself this a lot, more along the lines of "what's my purpose here making motorcycle content?" My current mindset is to enjoy the ride. I tend to get caught up in what my viewers may want to see, rather than focus on what I want to post, but the reality is it just needs to be a balance of the two. Since I only really have about 9 months of seat time out of the 7 years I've been around motorcycles, being a part of the community has been different for me than others. I absolutely love riding motorcycles, but filming and editing will always take first place.
As I start a new journey of owning my own motorcycle I'm excited and even slightly nervous to see what happens. I just want to ride motorcycles and share my own stories, along with other rider's stories, through my love for filming and editing. I'm very thankful for all the support I've received over the years. It hasn't been easy for me since I struggle with anxiety a lot of the time, but with each video I post I learn something new and I wouldn't change it for the world. Looking forward to sharing this new journey and hope to see you there! :)
---
Keep up with Nick and his Husqvarna on Instagram and watch his videos on Youtube!