Craigslist Scammer Gets Beat at His Own Game
Karma is a wonderful, wonderful thing.
There're a lot of things that people love. Motorcycles, for one, or else why are you even reading this article? Puppies, for sure. And beer, beer has to be added to this list, too. But just as there are things that we love and enjoy, there's an equal amount of things that we hate. And not just a slight dislike where we're able to turn a cold shoulder. No, we're talking about the kind of hate that runs deep in your bones. The kind of hate that makes your face feel hot, gets your hands balled up into fists, and has you taking deep breaths to keep everything under control.
What could warrant or justify that kind of reaction, right? People are different and hate different things, so how could you pinpoint one thing that you know everyone will mutually agree just, well, sucks?
Scammers.
---
Sell or trade in a motorcycle the easy way, get your free cash offer.
Need fast cash? Want to trade for a new ride? Trade in or sell a motorcycle for cash to a ready buyer!
---
But you know what's awesome? When scammers get a taste of their own medicine. An Imgur user by the name of DanCumming was attempting to sell his Yamaha motorcycle, which we know can be a frustrating and time-consuming task. So imagine his anger when he finds out someone he thought was interested in buying the bike was actually trying to scam him out of thousands of dollars. But instead of blocking and ignoring the scammer, upon realizing his intentions, this guy decided he was going to drag on this conversation for as long as he possibly could.
DanCumming starts to match the awful english of the scammer, and mock him through in the occasional insult here and there. The best part? The scammer is completely clueless that HE is now the one being trolled.
So, ladies and gentlemen, enjoy this funny motorcycle story with a happy ending: a scammer who gets beat at his own game:
---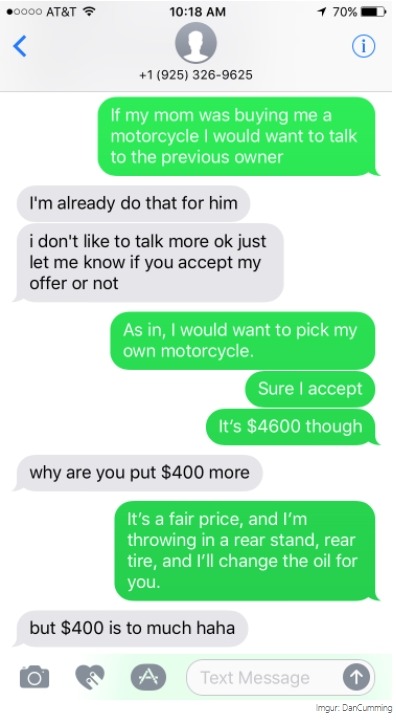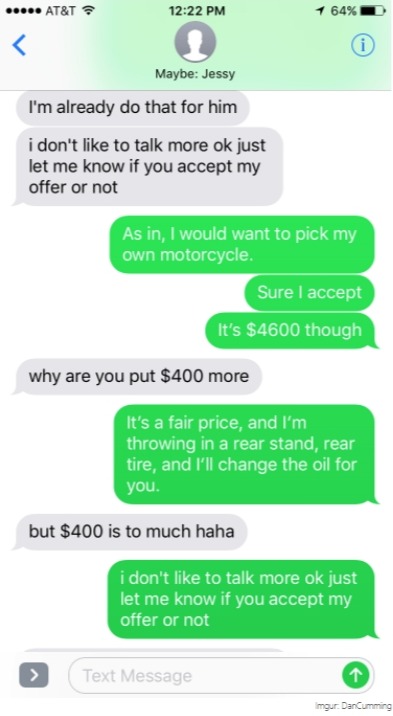 ---
Sell or trade a motorcycle the easy way, get your free cash offer.
Need fast cash? Want to trade a motorcycle for a new ride? Trade a motorcycle online or sell for cash to a ready buyer!