A look at an icon of the Sturgis Rally: the Knuckle Saloon
The Knuckle Saloon, Sturgis, South Dakota is a renowned hotspot to grab a brew, some great food, catch some live entertainment, and, of course, have a good time. We're getting the inside scoop on the Sturgis Rally from those who know it best, the people!
Take a look inside this iconic hangout: The Knuckle Saloon, Sturgis, South Dakota.
---
Sell motorcycles with complete confidence today.
RumbleOn is a ready buyer of any and all powersports that may be collecting dust in your garage. Submit any vehicle that has a VIN to us, and get a free cash offer in just 15 minutes.
---
"The name Sturgis draws a lot of people in," said part-owner and General Manager Bryan Carter. "Whether they're just passing through town, or to pick up a T-shirt, they just have to stop and see Sturgis Main Street. As far as during the rally itself, we have free entertainment, we have a great venue, and we have a lot of food."
Named after the iconic Harley-Davidson motor, the Knucklehead, The Knuckle Saloon opened its doors on August 1, 2000. The site actually rests on the property once owned by the famed Colonel Samuel D. Sturgis, which anyone who knows the history of Sturgis can tell you is the namesake of the rally town.
"At any given point in time, any one that's going to the rally has to come to The Knuckle Saloon," continued part-owner and General Manager Ken McNenny. "It's just now become a destination for people from all over the world to come and say they've been here."
The Saloon also serves as a museum to visitors, filled with antiques and memorabilia, and pays homage to the historic town of Sturgis and the world-famous Sturgis Rally. Yet, the bar is home to all walks of people and offers a casual and unique dining experience. Whether you're into bikes, drag racing, classic cars, sports, or dancing, you can find your flavor of experience at The Knuckle Saloon.
Those who stop at The Knuckle Saloon aren't only enjoying food that was voted the Best in the Black Hills; they are doing it at South Dakota's longest bar and the largest entertainment venue in downtown Sturgis. There's plenty of room and atmosphere to, as said on their website, "strike up a conversation while enjoying the best cocktails and the finest selections of premium quality craft beer and wine."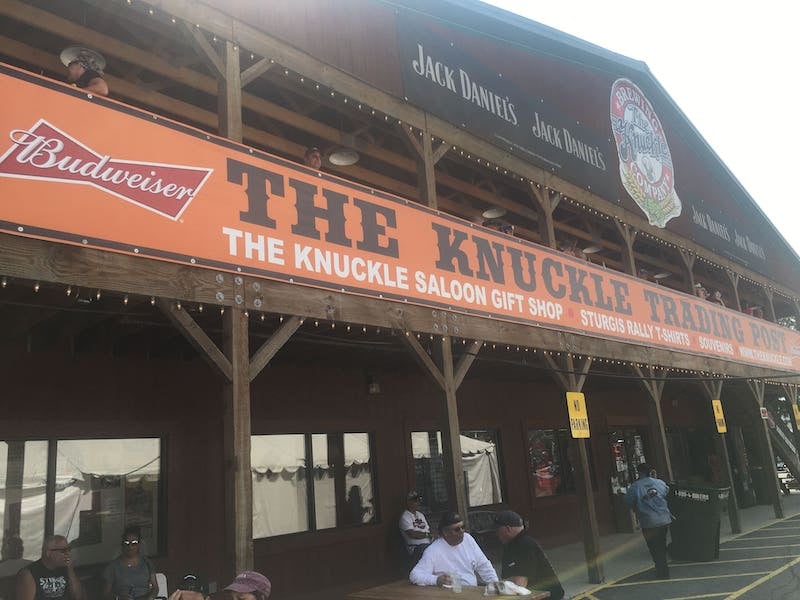 Even outside of the Sturgis Rally, the Knuckle Saloon is jam packed full of events and opportunities for fun times. Everything from pub crawls, to concerts, to car shows takes place there. Every June, The Knuckle even hosts bull riding events on location.
"The second weekend in June we put on a bar bull riding," Carter explained. "We bring a band out and we'll haul in enough to cover everything in eight inches of dirt, and we'll pen about forty head of bulls out there. As soon as the event is over, we knock down the fence, and the bands will keep playing. Everyone will just get out there and dance."
The Knuckle Saloon, Sturgis is also the home of KNKL Radio, otherwise known as "The Voice of Sturgis," and has been featured in many national publications and television programs to highlight their famous food, such as the huge burger known as the "Knuckle Sandwich" and their mouthwatering beef tips.
"You've got to know that this is a town of 6,500," McNenny said about the massive increase of people during the rally. "It's like if you take the entire Black Hills and kind of pour it in here. We try to keep the ball rolling as far as planning yearly events and timing, it's all really very, very crucial. We all wear a lot of hats."
"We're all from here," Carter chimed in. "Ken and I went to high school together. Ken's partner before the Saloon started is Tony Fortier, and our other partner is Roger Call."
He continued, "Family keeps us going. My brother is a partner. His first business partner, who is also a partner, helps with the brewery. We're open year round, and in the winter months, we have some wonderful staff that helps keep us open year round. Usually, this kind of business is high turnover for servers and bartenders. We don't have that."
Yes, that's right. The Knuckle even has a brewery. Seeing the demand and growth in the craft beer industry, The Knuckle Brewing Company opened its doors in July of 2014 as the first brewery in the town of Sturgis.
---
Things started off in a big way for the brewery. In fact, in their first year of brewing, the Knucklehead Red won first place in its category at The Black Hills Beer Fest.
"The Knucklehead Red is our flagship beer," McNenny said. "It's an American red ale, and it has a wonderful flavor to it. We have to brew it continuously in order to keep up on it and keep it in the marketplace."
The demand for Knuckle brews is growing, and canning began in April 2017. For the time being, craft beer connoisseurs from northwestern Wyoming to central South Dakota can get a taste of the Knucklehead Red, The Va'Knockers Blonde, Runkle Road IPA, and Pipe Welder Porter, with further distribution perhaps coming in the future. "We thought about Internet sales, and we still have to get the approval from South Dakota," McNenny explained. "There's still a lot of groundwork and research that needs to be done."
While those outside of the current distribution area will have to wait to get a taste of South Dakota's finest craft beer, locals and visitors will continue to frequent The Knuckle Saloon. For certain, the location will continue to serve and reign as one of the most iconic go-to destinations in Sturgis. Stop by for yourself and get yourself a Knuckle Sandwich, enjoy a Knucklehead Red straight from the tap, and tell yourself to remember the experiences you are sure to have; there's always a story waiting for you at The Knuckle Saloon.
---
Contact The Knuckle Saloon:
931 1st Street
Sturgis, South Dakota 57785
Phone: (605) 347-0106
The Knuckle Brewing Co:
900-998 2nd Street
Sturgis, SD 57785
Phone: (605) 561-9846
---
Sell your motorcycle for free to RumbleOn—it's fast, easy, and 100% online!
We help sellers who tell us, "I want to know how to sell my motorcycle online," get the job done. In fact, it's our mission to make the process as quick and painless as possible so you can enjoy your no-obligation cash offer soon rather than later. Have a motorcycle that's taking up space in your garage? Sell it to RumbleOn and we'll pick it up at no cost to you. Get started on your offer now!