Sportbikes carry a certain mystique that isn't matched in any of the other motorcycle segments. Their aggressive styling and technological wizardry suggest more than just a fast and fun motorcycle. Average pedestrians can look at any sportbike from the past decade and recognize an engineering marvel is in their presence.
From MotoGP to the streets of suburbia, sport motorcycles remain the pinnacle of performance and rider empowerment. They are the only transportation short of a fighter jet that can make riders feel like they're experiencing something from the future. In many ways they are as the technologies that arise from sport bikes are slowly disseminated throughout the other motorcycle categories.
For those who dream of pinned throttles and endless S-curves, the sportbike category is the premier segment for advanced performance and limitless fun. Read on to learn which bikes made our list as the top 5 best sportbikes in 2020.
---
Photo: Kawasaki.com
With so much emphasis on peak performance, manufacturers have realized some of the technological developments need to be in usability. Nobody cares how much horsepower and torque a bike has if it can't be used effectively, and nobody excels in this realm more than Kawasaki. For instance, we've seen their small-displacement Ninja® lineup graduate from a 250, to a 300, to a 400 in a span of only 8 years.
Team Green made it their mission to bring sportbike performance to both beginner and advanced riders in an approachable, usable package in the ninja bikes. The 2020 Kawasaki Ninja® 400 is entry-level, yet capable enough that you'll be more inclined to ride it several seasons before upgrading. So, not only is it had for an affordable price, but your dollar goes further before you finally decide to graduate. Lucky you, there are several more fast and furious Ninjas® in Kawasaki's lineup.
---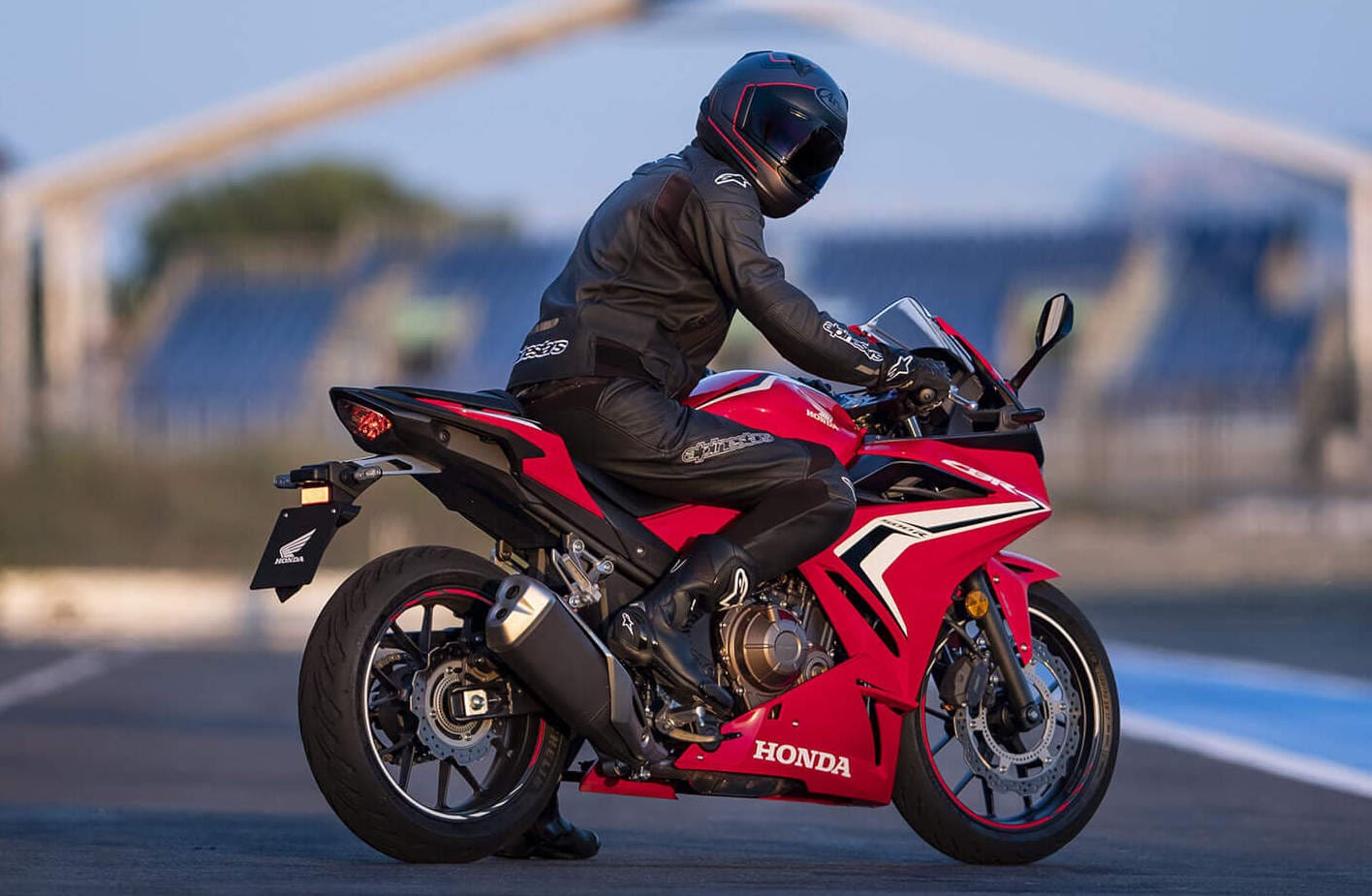 Photo: Powersports.honda.com
Honda recognized Kawasaki's dominance in the beginner sportbike category, so they chose to up the ante in 2020. The Honda CBR500R is an intermediate level sportbike appreciated for its top tier performance, versatility, and ease of operation. The CBR500R provides great low-end horsepower and torque for laid-back city cruising while its top-end performance allows it to keep up with the 650 class sportbikes on the circuit. Riders can wring it out on the track and post impressive numbers one weekend, comfortably commute to work the following week, then carve up the canyons or city streets the following weekend.
It's been said 'it's more fun to ride a slow bike fast than a fast bike slow'. This idea applies to the CBR500R, except this 471-cc middleweight is absolutely fast, yet its low-end power accessibility makes it a great all-around sportbike. Of course, the reliability of Honda products is always an underappreciated feature. Would you rather be wrenching or riding? The CBR500R will keep you on the road and out of the garage, and the 4.5 gallons fuel capacity means you can ride all week before needing a pit stop.
---
Photo: yamahamotorsports.com
Riders looking for something more exhilarating will turn to the supersport motorcycle class. In the last decade, no manufacturer has dominated this segment more than Yamaha, and they weren't slowing down to admire their accolades. The 2020 Yamaha YZF-R1, more commonly referred to as simply the R1, is a proven winner on the track, and advanced riders are rightfully eager to get their hands on the latest edition.
This newly revamped Yammer Hammer drops the hammer on its competition with new technology and added refinement. The R1 motorcycle now has a ride-by-wire system that uses magnetic throttle-position sensors rather than wires, and the aerodynamics have been tweaked to reduce both wind noise and pressure on the rider. To say Yamaha has winning down to a science would be an understatement. Yet again, the YZF-R1 set the bar in the supersport category with road-ripping, face-melting capabilities before the green flag was even waved.
---
Photo: Bmwmotorcycles.com
Of course, Yamaha isn't alone in its pursuit for pole position. Since 2010, BMW has been hot on their heels with their own supersport bike. Now in its third generation, the 2020 BMW S 1000 RR is a significant feat in engineering with the German manufacturer cramming enough tech into this motorcycle to make NASA envious.
At 25 pounds lighter than the previous model year, the newest S 1000 RR also increased its power output to 205 horsepower, and the sleeker tank and seat sections give riders, nay pilots, improved maneuverability and control in the cockpit. Listing all the tech and features incorporated into this bike would require two computers, which would still probably be less capable than those found on this German supersport. With so much advancement in one bike, the BMW S 1000 RR is one airfoil away from taking flight. Strap in - it's going to be a wildly exhilarating ride.
---
Triumph Daytona Moto2™ 765 Limited Edition
Photo: Triumphmotorcycles.com
For those who appreciate the history of racing and the supersport scene, Triumph has a new addition for your collection. The 2020 Triumph Daytona Moto2™ 765 is an homage to the cult following of the venerable Daytona 675, and the larger displacement Daytona Moto2™ 765 has been equipped with an assortment of race-spec components.
Most notably, the new Moto2™-derived triple-cylinder engine delivers the highest ever horsepower and torque in a Daytona, equally tailored for both the track and the street. Triumph wanted to maximize the engine's performance, so they also outfitted the Daytona Moto2™ 765 with an Arrow titanium race exhaust for maximum power output. In line with its name, only 765 of the Daytona Moto2™ 765 were made available in North America. These limited edition works of art would look great on display in the garage or foyer, but true collectors understand bikes this special deserve to be ridden. It's in the Daytona DNA.
---
Not everyone is a fan of sportbikes, and that's okay, but it's important to remember why we all should still appreciate them. After all, sportbikes are the reason why dual sports have ride-by-wire systems, cruisers have inverted forks, and tourers have luxury ABS components. The trickle-down effects of performance street racing are a good thing no matter which type of motorcycle you prefer.
Nowadays, there's a sportbike for everyone. Beginner, intermediate, and advanced riders can find a sportbike that checks off all their boxes in a fun, aggressively styled, affordable package. Commuters, track enthusiasts, and collectors can all get a glimpse into the future with the sportbikes listed above along with many others. The only thing faster than you running to the RumbleOn will be that new, fun, sportbike you're buying. Rev on, friends!
---
Should we have included a different bike in our top 5? Tell us which one and why you think it deserves recognition in the comments section below.